Since I recently wrote a piece about the necessity of consuming scripture (2020 Sur-Thrival Tip), it only feels appropriate to offer some practical advice on how to effectively engage the Bible. To be clear, this isn't doctorate level, academic, theologian advice. It's for all of us every day christians who have jobs, a spouse, kids, school, extra-curricular activities, and side hustles.
I want to keep it simple.

Get Out of Bed
We might as well start with the most difficult one. I will admit, this may be a bit of a pet peeve of mine, but at some point we have to prioritize Jesus and the process of progressing more deeply into His ways. My engagement with the Bible took a pronounced positive turn when I developed the habit of waking up an hour earlier, as a first fruit of my day, and opening the Bible. This is going to sound a little snarky, but we are either serious about it or we aren't. I like the morning, as a parent and as someone with a job, because it gives me the chance to have uninterrupted time to center my thoughts on the Lord before everyone starts pulling at my attention. Once your day starts rolling, it becomes very difficult to hit the brakes to consume scripture. I will defer to your judgment if you are someone who reads at night, but I'm telling you, there is something about rising early that is life giving.
Stay Put
Scripture is best read as it was written. When you bounce around the whole bible from one day to the next, you will have difficulty finding the rhythms and heart of scripture. We tend to lose the actual meaning of what is being said because we don't have the whole context. When Paul wrote a letter, each line is connected. My practice is to select a book of the Bible and each morning I will read a portion of that book. I will not deviate from that until I have completed that book. On a practical level, this creates a sense of accomplishment, which motivates you toward consistency.
Less is More
This is not a criticism of the "read the entire bible in a certain time span" approach. However, let's just be honest, most of us have started down that path with a burst of zeal on multiple occasions…how did that go for you? It is more valuable to read less and really interact with the text, than attempting to read large quantities for the sake of checking it off the list as read. This may surprise you, but in my morning reading, I only read one chapter. For instance, I completed Hebrews a few days ago. It took me two-weeks worth of mornings to conclude the epistle, but one chapter at a time allows me to actually wrestle with the text, find everyday application of the text, and hold onto the text through the day.
Start a Journal
I've learned there are two types of people…those who love journals and those who do not. I haven't always been a fan, but I am now. I literally am using one journal now, and have two more sitting beside my prayer spot, waiting to be used. Interestingly, my dad passing away settled in my heart the value of journaling, but that's another story for another day. I journal not as some secret diary, but as a tool that helps me maintain consistency, and allows me a methodical approach to engaging the Bible. I don't write long entries, nor do I use it to bear my soul. I use two pages of the journal every morning. One page to note pertinent happenings from the day before, and the other page to set my thinking and engage the Bible. It would be better for me to show you a photo than try to explain it.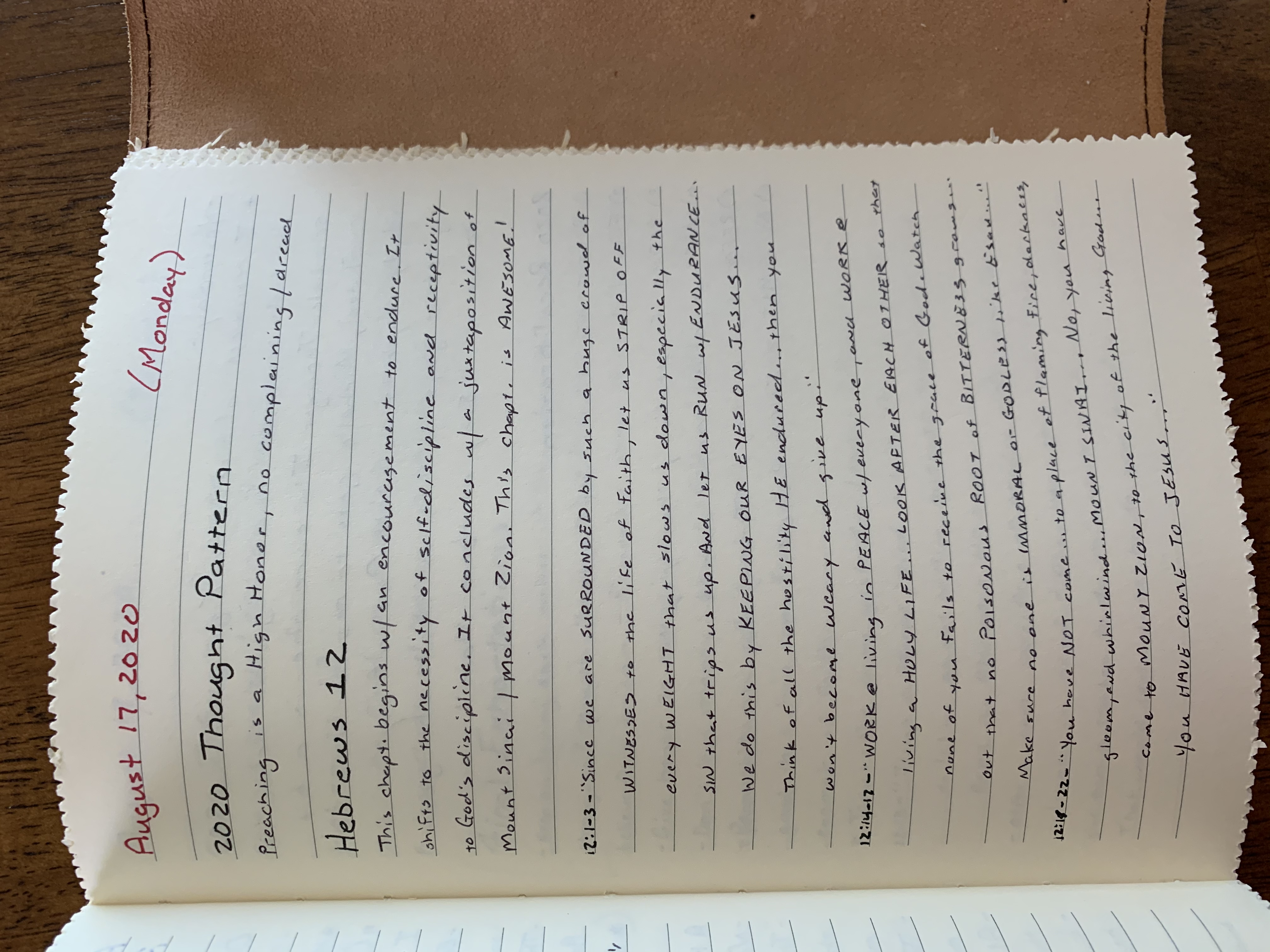 Pray What You Read
This may be the most important part of my bible engagement. Pretty much every chapter of the Bible I read has something applicable to my life, and I can't think of anything better to pray than what is before me in scripture. After I have read the chapter, then journaled verses that caught my attention, I go back through the chapter and ask Holy Spirit to help me live what is on the pages. I will reword the appropriate texts into the form of prayer, focused on communicating my heart to God. You won't remember everything you read, but God will remember everything you have prayed. I want to reiterate, this may be the most important part of the process because I am not only engaging scripture, but I am engaging God relationally and fueling my prayer life. For those of you who feel your prayer life gets into ruts, this is a practice you need to implement ASAP.
Finally, I want to throw in one more thought…
Be Consistent
You will miss some days. Life happens. But get into a consistent pattern. Create a methodology to your scripture consumption, a liturgical approach so to speak. If you will follow the tips above, you will become a person who loves and craves the Bible. I guarantee it.